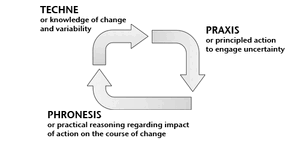 Jackie Hoermann is responsible for this page, but feel free to make edits!

Edit
Chapter overview
Edit
This chapter seems to function as a prequel. It's set up in the preface when Ulmer states that flash reason is associated with a virtue/ modality (choice of words alternates in different chapters), one many rhetoric scholars have written on and one Aristotle loved: prudence, a.k.a. phronesis if you're an ancient (xvi).
Why was so prudence so important? Ulmer and others contend that it's the virtue that guides all rhetorial decisions, calling it "a guide to the art of decision," specifically (5). Note that the way mainstream society understands prudence today is different from how the term was used by ancient scholars. 
According to James Jasinski, who's Sourcebook on Rhetoric is great for understanding multiple definitions of rhetorical terms, the rhetorical figure of prudence "mandate[s] careful reflection on the context of action and the relevant norms of propriety and appropriateness" before taking rhetorical action (468). Similar to the rhetorical figure of kairos, it is understood as knowing when it is appropriate to act. Some scholars have less-than positive appraisals of prudence, such as "the self-interested calculation of costs and benefits" before acting rhetorically (Nelson ctd. Jasinski 462). This brings up a whole host of interesting issues pertaining to technology, used prudently, sometimes for personal advancement, but that's another wiki page.
Returning to Ulmer's definition of prudence, he mirrors Jasinki's definition with Titian's claim that "From the [experience of the past], the present acts prudently, lest it spoil future action, " but Ulmer complicates this and the template Titian provides us with by bringing issues of electracy to the forefront (15, 3). How so? Well, there's that problem of sublimation as the new modality to consider (in the "Enjoyment" chapter), as well as flash reason's support of "collective epiphany" (Ulmer 14). With so much electracy and sharing going on, we find ourselves with "only competing versions of the experience," which Ulmer seems to find disconcerting (14). Ulmer explains the reason for his concern in terms of education, saying "to reach across from knowledge to this other lived dimension [electracy, I presume], sometimes confused with ignorance, stupidity" (14).
Is anyone else reminiscing back to Bernard Steigler's pharmacological concerns?
Yeah, I was reminded of that in a big way. I'm wondering now what distinctions we might make between Stiegler and Ulmer's concerns.
Other sections where prudence is discussed

Edit
"Metis, rather, is the logic of Becoming… prudence is time-logic" (87).
The concept avatar is tasked with the job of consulting on issues of "embodiment," and thus, Ulmer gives it the distinction of "manager of a new prudence" 

(

150). 

A few pages later, he cites Rajchman's ideas about the new modalities used by communities to make us think about whether or not prudence will persist as a modality 

(153). He seems to think it will not because "sublimation" will be the modality to replace all modalities. Talk about big claims.
Decorum: "came to mean 'not only the suitable representaiton of typical aspects of human life, but also specific conformity to what is descent and proper in taste, and even morality and religion" (Ulmer 8). On the next page, Ulmer expalins that decorum shares a "faculty judgment" with prudence, the two work similarly and are practical in nature.
It seems to me that prudence used to determine chora. You'll recall that prudence guides decisions, and Ulmer goes on to say that decisions concern events (3). Prudence determines are decisions, thereby ingratiating itself in every event in it's chora (place/ space). In turn, the chora will influence how we use prudence in future rhetorical scenarios. At least, that's how I understand it. I'm hesitant to call it a symbiotic relationship, but the association between the two is certainly ongoing as they continue to influence one another. 
Connections to Additional Readings
Edit
In Ambient Rhetoric, Thomas Rickert explores Ulmer's idea of the chora. For Rickert, the chora acknowledges the complex, agential flux of bodies (both human and non-human) in the social and technological worlds. Rickert posits that the chora attends to the material nature of self-consciousness, which opens up possibilities for invention and rhetorical production. According to Rickert, the key to accessing the chora is understanding the post-literate concept--the electrate concept--of who we are, which, in turn, can be translated into what we write.
Importantly, Rickert's study of the chora asks us to rethink our notions of creation, beginnings and invention. In other words, Rickert's work on the chora implies there is no clear line of "in here" and "out there." Significantly, then, the chora suggests no precise method, but rather the rhetorical methods afforded by the chora constitute, comprise, and negotiate ecologies of knowledge.